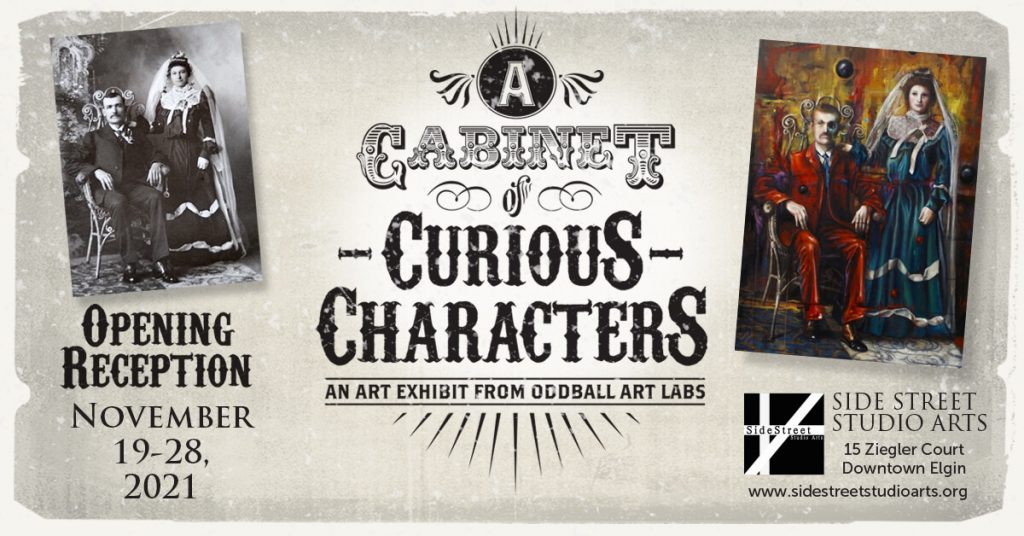 Wikipedia defines a Cabinet Card as "a style of photograph which was widely used for photographic portraiture after 1870. It consisted of a thin photograph mounted on a card typically measuring 108 by 165 mm (​4 1⁄4 by ​6 1⁄2 inches)." https://en.wikipedia.org/wiki/Cabinet_card
We call it "Vintage Inspiration!"
Oddball Art Labs has teamed up with Side Street Studio Arts to present a wild reinterpretation of these cherished objects. See how over thirty local artists take these antique photographs and use them to drive their art. The styles of the artists vary wildly, so we're just as excited as you to see the finished works of art.
Join us November 19, 2021 from 6pm-9pm at Side Street Studio Arts for what will be a memorable show.
(Social distancing guidelines will be observed and face masks will be required.)
Show runs
November 19, 2021 – November 28, 2021
---
Podcast Interview
Listen to the interview Erin Rehberg of Side Street Studio Arts conducted with Dave Metzger, Mike Rende and Alisa Duda about this show.
---
A (very) short history of cabinet cards and their artistic inspiration
These vintage photographs evoke sentimental longing for an utterly distinct age than the one we are in adapting to completely different emerging technologies. The Steampunk crowd in particular enjoys these glimpses of the past and finds inspiration for costumes and environmental decorations.
Depending on the process used to create them, cabinet card images can have a distinct appearance. Cards from the 1890s have the appearance of a black-and-white photograph were most likely produced on a matte collodion, gelatin or gelatin bromide paper. Cards with a distinctive sepia toning were created through the albumen print process. Some cards even have a greenish cast produced by specific formulations of the gelatin bromide papers used.
Professional photographers often embossed their logos and contact information on the backs of cards as a way to promote themselves.
Cabinet Cards were popular throughout 1870-1930 and reached their peak popularity in the 1880's. Their popularity declined as handheld cameras such as the Kodak Box Brownie became affordable and made casual photography available to the masses.
Famous Artists Inspired by Cabinet Cards
Over the years we've been inspired by many artists who have embraced the distinctive feel of vintage cabinet cards and made the visuals uniquely their own. Some of our favorites are:
Mark Mothersbaugh
Yes, the lead signer of Devo! Mark has been utilizing the Cabinet Card as a framework for his Beautiful Mutants art series since the late 1990's. In his reinterpretations of the cards he mirrors the images causing oddly disturbing, but often surprisingly beautiful imagery.
https://markmothersbaughart.com/art/beautiful-mutants/
Travis Louie
Some artists have an affinity with their surfaces to the point that you need to remind yourself that it isn't a photograph. Travis's art depicts finely dressed monsters and people in fantastical situations, yet they convincingly look like they could have been vintage photographs.
https://www.travislouieart.com/
Alex Gross
Pop art meets the 1870's! Alex converts these turn of the century relics into pop art masterpieces, painting over the cards to depict them as popular fictional heroes of today's media. It's a truly playful way to bring new life into these cards.