Oddball Art Labs was proud to unveil the "Oddball Art Machine" during our "Strange Imaginations and Other Perplexing Wonders" gallery show in July 2018.
The Oddball Art Machine is a repurposed 1950's Fleetwood Fawn cigarette vending machine that has been converted to sell artwork the size of cigarette packs for only five dollars each. There are 21 slots available in the machine, each of which will contain artwork by a selected individual artist. We also plan to have channels for groups of artists such as Funky Rooster Tattoos.
We'll usually have at least one 'Mystery Channel' that will contain a mixture of different artists' work that has almost sold out…shuffled together so you don't know what you'll get. Take a chance and discover a new artist. Rest assured that every piece in the machine is handmade and completely unique, so you'll never get the same piece of art twice.
Our plan is to have the machine travel to different business locations around Elgin in order to promote the arts in Elgin while simultaneously promoting Elgin's wonderful downtown businesses.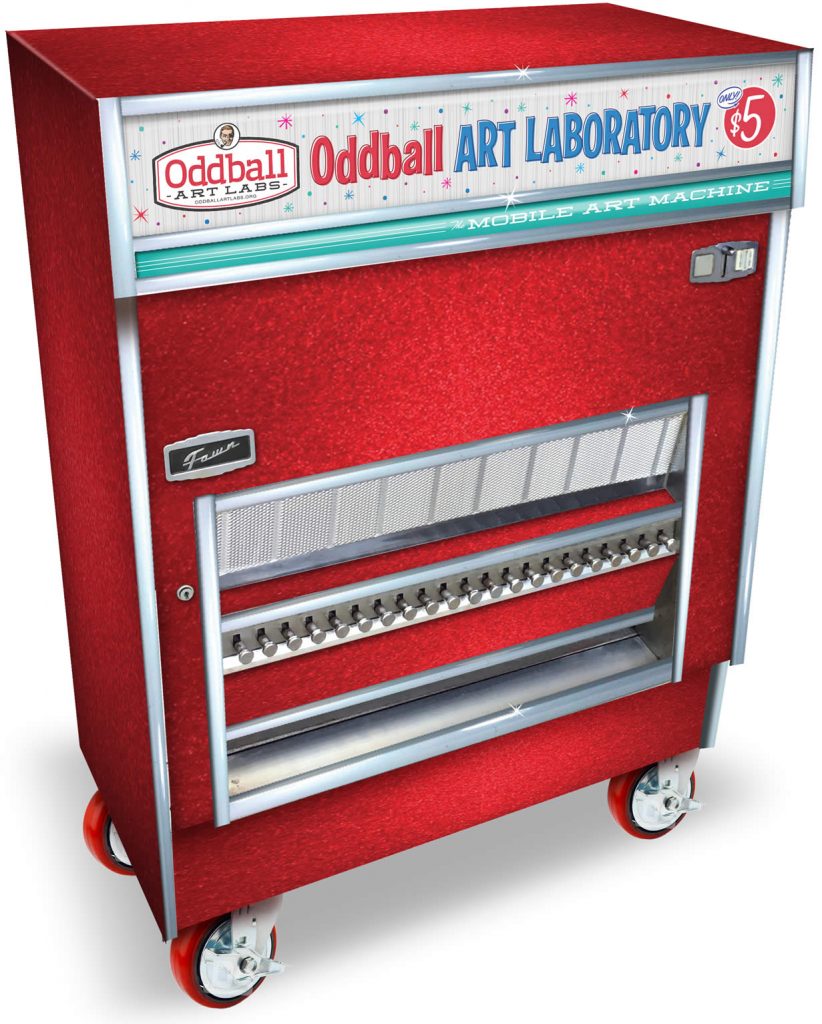 ---
Current Location
Want to get involved?
We are always looking for artists in Elgin and the surrounding Chicagoland area who want to create art blocks for the vending machine.
---
Current Artists
When we fill the machine with new artist's work, we'll post the full set on our blog, the Hub of Weirdness. Check out the newest additions here.
---
Where will it be next
2019
2020
Where has it been
2019
2018
---
Past Artists
Our Past Artists have either sold out all their blocks or have just a few in the "Mystery Channel" in the machine. If you see something you like here, there may be just one or two left. So take a chance on the mystery as you may be pleasantly surprised.
Renee Alverez
Eve Blagoeva
Karl Jahnke
Nate Richards